block-section row-start col-md-7
Commercial aviation asset values and valuations
Covering all aspects of commercial aircraft values, this one-day masterclass will give participants a thorough understanding of valuation types, the methodologies behind these and importantly, the benefits of each option for your organization in deriving the value of an asset.
Why attend?
Taught by industry-leading ISTAT certified valuations appraisers working at FlightGlobal's advisory arm, Flight Ascend Consultancy, investing in this masterclass will give expert insight and knowledge to ensure your teams are better able to support the understanding and monitoring of aircraft values and risk for your organisation.
This will give participants practical tools and information they need to:  
Learn what commercial aviation values mean and how to put this into context
Interpret information to enable better decision making around values volatility and risk
Understand various time and market factors involved that will affect aircraft values
Have more impactful conversations with appraisers before, during and after an appraisal
Who should attend?
This masterclass is ideal for those new to aviation finance, those working at a junior or mid-analyst level, or even those who just want to understand more about the process involved in valuating aircraft assets and how this can help for more effective and efficient valuations. 
Those working within banks, operating lessors, traders, investors or airlines in the following areas would most benefit from participating in this masterclass:
Risk management

Portfolio management

Finance

Trading/Marketing

Asset management

Technical management  
block-section row-end col-md-5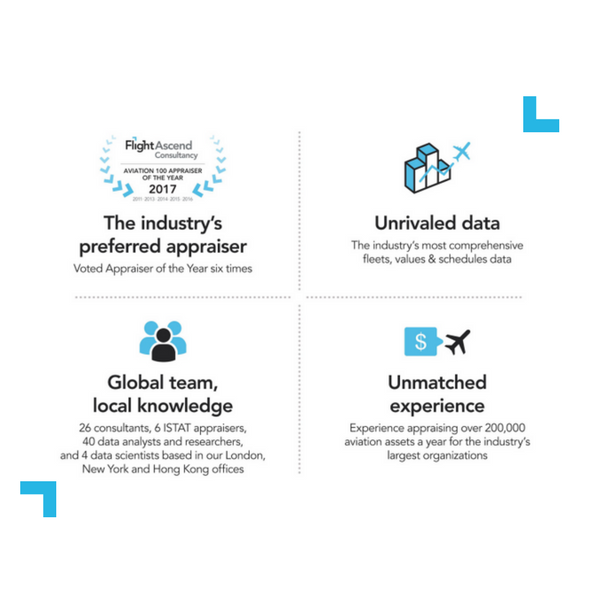 block-section colour-section row-start row-end col-md-12 center
What is covered?
- Why invest in aircraft? 
- Aircraft life-cycles 
- Asset selection 
- Aircraft values from the investors' perspective 
- Commercial aviation current and forecast asset values 
- Commercial aircraft valuation methodology
full-section row-start row-end col-sm-12 center
colour-section register-section row-start row-end col-xs-12 center
Register
Register your team members now for €995 each (discounts available for multiple bookings)